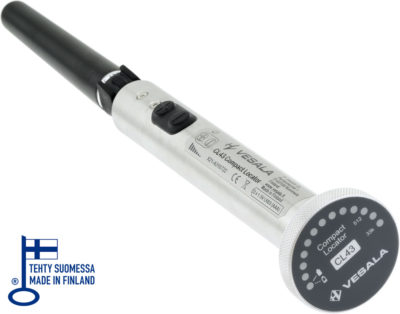 Compact Locator CL43-PA
Product ID: V00111
Request a quote
Compact Locator CL43-PA
CL43 Compact Locator is an affordable and easy-to-use wire and cable and duct sonde locator. Outdoors CL43 can be used to trace and pinpoint underground cables and sondes in several metres depth. Indoors CL43 can be used to locate for example floor heating cables and wires inside walls.
CL43 has a simple user interface with only two buttons, 13 LED lights and a waterproof speaker. Probes are easy to disconnect making it easy to carry the receiver and a probe even in a pocket.
CL43-PA kit does not include a transmitter but it is compatible with Vesala 33kHz transmitters (CTT33 and SG33) and duct sondes (See Duct Sondes category). CL43 also works with other manufacturers' 33kHz transmitters.
Especially for tracing cast iron ducts a product setup CL43-PB is available. Corresponding 512Hz sondes are PL18-05 and PL42-05.
Additional probes for CL43 can be acquired also later. If you would need a setup to trace cables and wires indoors and outdoors, look at the CT33 cable tracer. We will build a setup according to your preference including probes and duct sondes, all packed in a handy case.
Compact Locator CL43
Receiver probe SA43 (33 kHz)
Carrying case KLCL43
User manual
Batteries
Categories:
Sonde Locators
,
Vesala
,
Vesala Locators