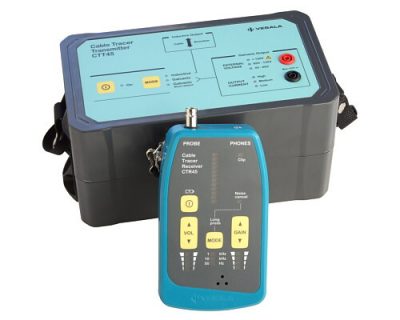 Cable Tracer CT45
Product ID: V00120
Request a quote
Cable Tracer CT45
The versatile CT45 cable and wire tracer enables telecom technicians and electricians to locate various types of cables, such as telecom and mains cables, wire pairs, under floor heating cables, cable conduit and even sewer-pipe blockages.
The powerful CTT45 transmitter ensures an operating distance of up to several kilometres. The sensitive CTR45 receiver combines a flexible setup, which won't let you down even in the trickiest situations.
Transmitter CTT45
CTT45 can be used in three basic ways:
In galvanic usage, CTT45 provides accurate cable tracing or long-range pair identification with wired connection to the target. Fault-spot tracing is also possible with the new 1kHz feeding frequency. For safety, the transmitter has external voltage display and automatic protection mechanisms against high voltages.
Inductive feeding: In high voltage (typically mains) application a PM50 clamp on transformer (accessory) can be used.
Inductive feeding above ground is useful if the target is an underground cable or a conductive pipeline.
Receiver CTR45
CTR45 receiver recognizes and traces the 1kHz and 10kHz signals generated by the transmitter. Furthermore it can be used to trace 50Hz mains wires without the transmitter.
Receiver has an informative 12 LED bar display for signal volume. Clear audio volume & signal gain adjustment help adjustment for various tracing conditions. By using the HM12 headset CTR45 can be used in noisy environment.
How to use CT45
Cable tracing: Defining the route of telecom or mains cables under ground with SA1 probe is one of the most typical cases where CT45 can be used. Signal can be heard from several metre distance and even cable depth can be closely estimated.
Cable identification: By using the LA1 close range probe it's easy to trace cable inside walls or identify a certain cable among other cables on cable shelves.
Fault-spot tracing: LA1 probe is used also for so-called fault spot tracing. Using the 1kHz feeding frequency causes minimal cross-talk to other cables and the location of a short circuit in a cable can be found.
Wire Tracing: Pairs from apartments are easy to find e.g. at house MDF with the capacitive KA6 probe without having to touch the wires.
Tracing cable ducts (conduit) or sewer blockages is based on using the PL18-10 pipe transmitter (accessory). PL18-10 is a water tight independent transmitter which is pushed into the blocked duct or pipe. Also the depth of a blockage can be estimated. For optical microducts a special microduct transmitter MPL6-10 is available as an accessory.
This Vesala product is made in Finland.
| | |
| --- | --- |
| Basic Set-up | |
| CTT45 | Transmitter (incl. batteries) |
| SJ20 | Sending cord 2.0m banana/banana, crocodile clips |
| CTR45 | Receiver (incl. batteries) |
| SA1 | Inductive rod probe |
| LA5 | Inductive close range probe |
| KA6 | Capacitive probe |
| AK1 | Probe cord, 1.0m, BNC/BNC |
| KPP6 | Carrying bag |
| User's manual | |
Categories:
Vesala
,
Vesala Locators