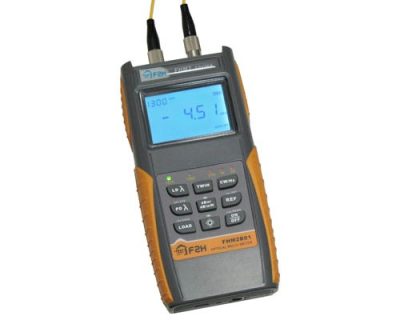 Optical Power Meter, Bidirectional FHM2B01
Product ID: Y41015
Request a quote
Optical Power Meter, Bidirectional FHM2B01
The FHM series optical loss test set combines a power meter and a dual-wavelength laser source for optical fiber network installation and maintenance. Typically FHM2B01 is used for testing two fibers connected in a loop or for testing fibers in both directions (back and forth).
FHM2B01 supports six wavelengths: 850nm, 1300nm, 1310nm, 1490nm, 1550nm and 1625nm. FHM2B01 measuring range is -50 … +26dBm (at 1550nm), so it is suitable also for cable-TV environment. Related product version FHM2A01 is similar equipment but with -70 … +10dBm range. Laser source supports 1310nm and 1550nm wave lengths on fixed -5dBm level.
FHM2B01 has a clear backlit LCD with linear and logarithmic optical power display. Up to 999 test results can be stored to the internal memory and later uploaded to a PC via USB interface.
FHM2B01 power meter & laser source
SC/PC connectors (2pcs)
Spare ferrules
USB cable
NiMH batteries
230Vac/6Vdc power adapter
Application software CD
User manual
Carrying bag
Categories:
Grandway
,
Power Meters & Sources