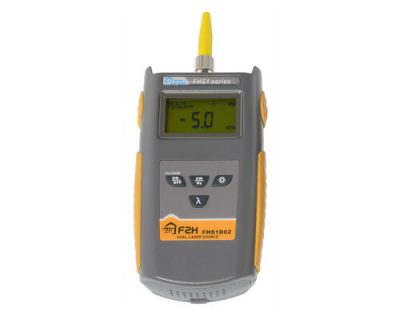 Laser Source FHS1D02
Product ID: Y41000
Request a quote
Laser Source FHS1D02
The FHS1D02 mini-sized dual-wavelength laser source offers excellent stability and portability for accurate fiber optic testing. Single output port provides stable laser power at dual-wavelength.
The compact and cost-effective unit operates in either continuous wave (CW) mode or modulated mode, with modulation frequencies of 270Hz, 1kHz or 2kHz.
FHS1D02 is inteded for single mode fibers and it outputs infrared light on 1310nm or 1550nm wavelengths. Related product version FHS1D03 is similar equipment for multi mode fibers with 850nm or 1300nm output.
FHS1D02 has a clear LCD with back light and low battery indicator. A 10 minute auto-shut-off feature can be  by-passed manually.
Using FHS1D01 with FHP1 series optical power meter, accurate measurement of fiber loss  up to 250km distance  is possible with 1550nm wavelength.
FHS1D02 laser source
FC/PC connector
Lithium-ion battery
230Vac/5Vdc power adapter
Carrying bag
User manual
Categories:
Grandway
,
Power Meters & Sources