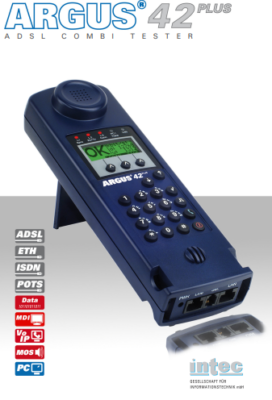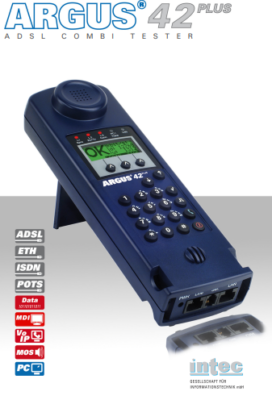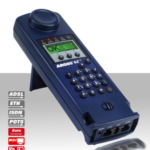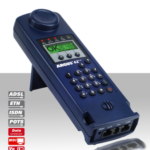 Argus 42Plus
Product ID: Z42102
Weight: 0.5 kg
Request a quote
Argus 42Plus
Argus 42Plus – ADSL Combi Tester
(replacing AP32) We have regrettably discontinued production for Test Telephone AP32. Now we have found a replacement from Germany.  Argus 42plus has been developed to test ASDL and ISDN protocoll. Installations are eazy to check with Argus 42Plus combi testers.
Argus 42Plus is used to ADSL, ISDN and Voip -testing. Unit has reasonable price and can be used to ADSL testing and with some additional accessories it can be used to ISDN- and POTS testing. ADSL combi tester at a fair price: the ARGUS®42 PLUS tests ADSL, as well as optionally ISDN and POTS. In addition to the various access types and protocols, the tester also determines e.g. the attainable transmission speed or noise floor of the line.
Upgrade to a full voice tester
Basic Triple Play tests are also supported: the ARGUS®42 PLUS can be upgraded to a fully featured voice tester if desired. The combination tester can then be used to set up voice calls to test and evaluate not only POTS and ISDN connections, but also calls placed via VoIP. The ARGUS®42 PLUS evaluates the voice quality, delivers a MOS value (using E model) and determines the Media Delivery Index (MDI) of IPTV streams.
Determine the line quality
The testing set also checks the resistance and capacitance and performs voltage measurements on top. Optionally, HF signals can be detected or data services can be tested, e.g. by enabling the passive bridge or router modes. This allows determining the transmission quality of the line.
Easy operation
The handheld tester, which weighs just 450 g, is remarkably userfriendly thanks to its intuitive menu structure.
Technichal Features:
• Power supply: supplied by standard rechargeable batteries
(type AA), NiMH battery pack or mains adaptor
• Hotkeys for quick start of various testes
• Power Management, user configurable
• Keypad: 16-keys, 2 cursor keys, 3 context-specific softkeys
• LC display with switchable background lighting
• 5 LEDs to indicate status
• Handset with integrated speaker and microphone
• CE marked: complies with CE directives
• User safety: fulfills EN 60950-1:2006-11
• RoHS conformance accoring to WEEE directive
Interfaces:
• RJ-45 line input for POTS, ADSL, ISDN
• RJ-11 serial interface to PC
• Ethernet (10/100 Base-T)
• Headset jack (TRS 2.5mm, approx. 3/32″)
Environmental conditions:
• Operating temperature: 0 °C (32 °F) up to +50 °C (122 °F)
• Storing temperature: -20 °C (-4 °F) up to +60 °C (140 °F)
• Relative humidity: up to 95%, non-condensing
Dimensions:
• Size: H x B x T: 229 x 72 x 35 mm (9.02 x 2,84 x 1,38 in)
• Weight: approx. 425 g (0.94 lbs)
Standard package:
ARGUS®42 PLUS with standard rechargeable batteries, mains adaptor, ADSL interface (Annex A+M or Annex B), RC measurement, xDSL test lead and adaptor, WINplus PC software, printed English manual, carrying case and rubber holster
Categories:
Argus
,
Copper Network Products
,
Telecom Testinstruments