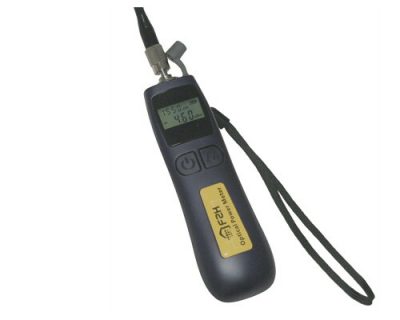 Optical Power Meter, mini FHP12-B
Product ID: Y41012
Request a quote
Optical Power Meter, mini FHP12-B
FHP12-B is a low-cost and very small-sized optical power meter. It can measure optical fiber attenuation on six wavelengths. FHP12-B can be used together with a laser source for accurate attenuation measurements or alone to measure infra-red optical power from other sources.
FHP12-B has a clear back-lit display. Results are shown either in linear or logarithmic scale. Device has low power consumption and it operates with two standard AAA (LR03) alkaline batteries.
FHP12-B measuring range is -50 … +26dBm (at 1550nm), so it is suitable also for cable-TV environments. There is available also version FHP12-A which has measuring range -70 … +10dBm.
FHP12-B optical power meter
2 x AAA battery
2.5 mm universal connector (for FC, SC and ST adapters)
Protective bag
User manual
Categories:
Grandway
,
Power Meters & Sources