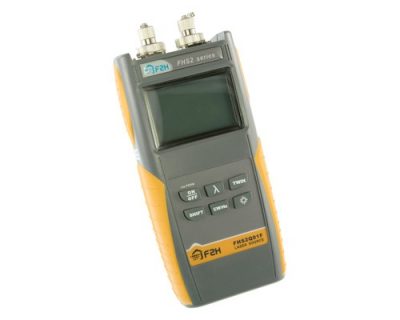 Grandway Laser Source FHS2Q01F
Product ID: Y41005
Request a quote
Grandway Laser Source FHS2Q01F
Grandway FHS2Q01F is a four-wavelength laser source that offers excellent stability and portability for fiber optic testing. Technicians can test both single mode and multi mode fibers with one handy device. FHS2Q01F is excellent at fiber installation and maintenance work.
Grandway FHS2Q01F sends 1310nm or 1550nm wavelength for single mode fiber testing and 850nm or 1300nm for multi mode fiber testing. Both modes have their dedicated outputs which can be controlled independently. Output level is fixed -5dBm for both outputs. Light can be either continuous wave (CW) mode or modulated mode, with modulation frequencies of 270Hz, 1kHz or 2kHz. Modulations can be used for fiber identification.
FHS2Q01F can also transmit digital wavelength identification signal, enabling e.g. the FHP2-series power meter to automatically use the correct calibration parameters. This feature reduces need for communication between the two technicians and decreases potential errors.
FHS2Q01F laser source with FC/PC connectors
SC/PC adapters (2 pcs)
User manual
230Vac/6Vdc power adapter
Carrying bag
User manual
Categories:
Grandway
,
Power Meters & Sources