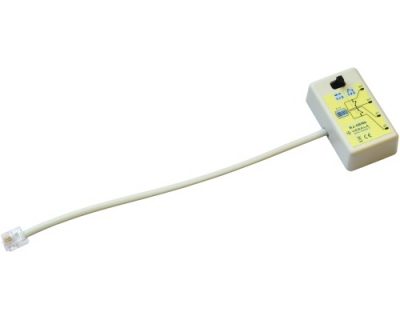 Adapter RJ-4BNk (RJ12-45/banana, w. switch)
Product ID: RJ-4BNk
Request a quote
Adapter RJ-4BNk (RJ12-45/banana, w. switch)
RJ-4BN adapter enables connecting a test device with 4mm banana plugs to RJ sockets. RJ-4BNk includes an RJ12 male connector, which is suitable for both RJ11 and RJ45 sockets but does not damage the outermost contacts of the RJ45 like an ordinary RJ11 plug would do.
RJ-4BNk connects pins 3-4 (pair 1) and 2-5 (pair 2) to corresponding banana sockets.
RJ-4BNk is equipped with a switch that connects pair 1 and 2 parallel. This is especially useful in exchange situations when RJ-4BNk is being used with the HVT-RJ45D adapter, which fits to HVT/MDF71 terminals. With the switch user may choose whether a test device is connected parallel to the tested pair or, alternatively, disconnects either direction.
Categories:
Accessories and Adapters
,
Vesala