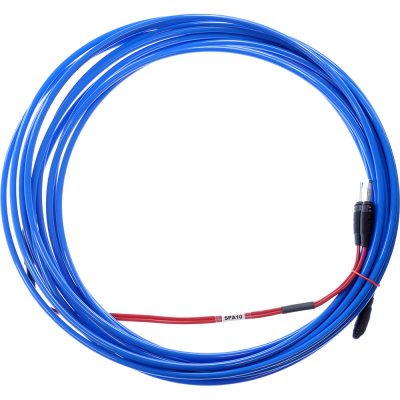 Pipe Transmitter Antenna SPA10
Product ID: SPA10
Request a quote
Pipe Transmitter Antenna SPA10
SPA10 is an accessory for the Vesala cable tracers. It is suitable for tracing e.g. small empty cable piping routes in buildings, prefabricated hollow wall blockages or non-conductive sewers and their blockages. Usage of SPA10 resembles usage of pipe transmitter sondes, which are independent transmitters and mainly for outdoor use.
SPA10 is connected to a cable tracer and gradually inserted into the target pipe, continuously monitoring its progress in the pipe until it e.g. hits a blockage. Tracing is done with a cable tracer receiver and an inductive probe.
In the head of SPA10 there is a transmitter coil which can be located very accurately e.g. in case of a blockage. When approaching the head with a receiver, signal first considerably increases but right above the exact location of the head there is a clear transversal minimum. Also the depth of the head can be defined..
SPA10 is 10 metres long. The nylon tube arm is 6mm in diameter and the antenna head approx. 10mm.
Categories:
Transmitter Accessories
,
Vesala