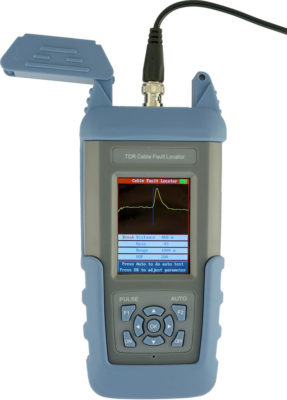 TDR ST612 (cable fault locator)
Product ID: Z38010
Request a quote
TDR ST612 (cable fault locator)
ST612 Cable Fault Locator TDR (Time Domain Reflectometer) is affordable and easy-to-use equipment for metallic cables. ST612 can measure fault locations, such as broken lines, cross-connection faults, earth leaks, poor insulation and poor contacts up to 8 km distance. Measurement resolution is 1 meter and dead zone 0 meters.
When being used, ST612 sends a short pulse to the line. The pulse will reflect back from fault spots and from the cable end in their typical manner. On the basis of the time of each reflection, ST612 can display the distance of the faults. One can choose either automatic testing, in which ST612 chooses test parameters itself, or manual testing, in which user can choose test parameters.
ST612 has a clear LCD display, which shows test results graphically. Movable cursor helps to define fault distances. The rechargeable lithium battery enables up to 10 hours of working time.
ST612 TDR
230Vac power supply and charger
BNC-crocodile test cord
BNC-banana test cord
Carrying bag
User manual
Categories:
Electric Installation
,
Senter
,
Telecom Testinstruments