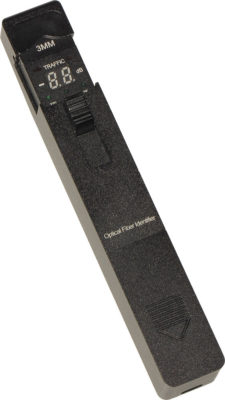 Fiber Identifier ST820B
Product ID: Y41050
Request a quote
Fiber Identifier ST820B
ST820B optical fiber identifier is an essential instrument for the installation and maintenance of optical fibers. With 1310nm or 1550nm wave length ST820B indicates the direction of the transmitted signals. It can easily recognize SM fibers and find and locate a specific fiber without interference to the transmission.
ST820B has a rugged construction and several interchangeable adapter clamps for different fiber sizes are available: Ø0.25mm, Ø0.9mm, Ø2.0mm and Ø3.0mm. Test adapter and fiber under test can be covered with a rubber shade to improve test reliability when sun or other ambient light is present.
ST820B has an easy-to-use one-key operation. It recognizes industry standard modulations such as 270Hz, 1kHz and 2kHz. Audio tone indicates when modulations are detected. Besides traffic direction, relative power of the transmission is displayed on the display.
ST820B identifier
0.25mm, 0.9mm, 2mm & 3mm clamps
Light shield (rubber)
2 pcs AAA batteries
User manual
Protective bag
Categories:
Other Fiber Testers
,
Senter