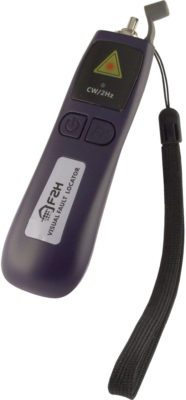 Visual Fault Locator (VFL) VLS-8-30 (30 mW)
Product ID: Y41060
Request a quote
Visual Fault Locator (VFL) VLS-8-30 (30 mW)
VLS-8-30 is the new mini visual laser source for fault locating from Grandway. It has attractive design and small size and it is easy to operate.
Visual fault locator (VFL) is typically used to inspect damaged or broken point of an optical fiber, cable or patch cord. The leaking red light from the damage reveals the faulty spot. Another way of using VLS-8-30 is to identify individual fibers from other fibers for example at ODF.
VLS-8-30 is the most powerful version of the VLS-8 family of laser sources. It has 30mW optical power, which enables operating distance up to 18km depending on conditions. Light can be continuous or 2Hz modulated.
VLS-8-30 is suitable for both single mode and multi mode fibers and the standard multi-adapter output can be connected to most 2.5mm fiber connectors. With and FC/LC-adapter (accessory) VLS-8-30 can be used also with LC-pacth cords. Integrated rubber cap protects the output.
VLS-8-30 laser source
Universal 2.5mm adapter
AAA batteries (2 pcs)
Carrying bag
User manual
Categories:
Grandway
,
Visual Light Sources