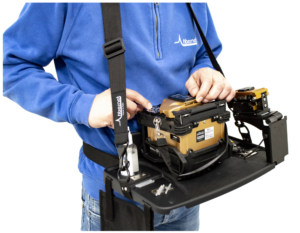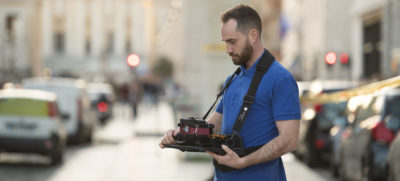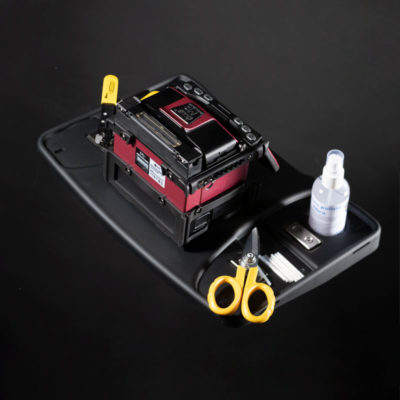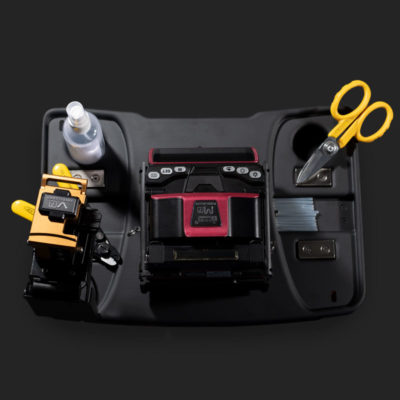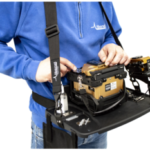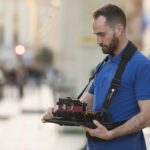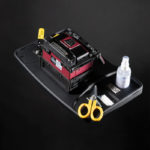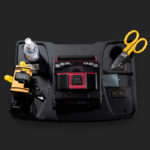 Fibernet Un1co Mobile
Pyydä tarjous
Fibernet Un1co Mobile
Un1co Mobile is a Fibernet developed and designed solution suitable to support installers during difficult field operations, such as joining optical fibers on a ladder or in the absence of stable support surfaces.
The activities at deep height, on aerial wiring or on the façade's box , require the operator to work at great heights using fusion splicer and cutter. This exposes the instrumentation to a risk of falling.
Un1co Mobile consists in a main plastic reinforced shelf designed for the secure fixing of all the tools and utensils necessary for fiber splicing operations.
The first prototype, also presented during Ecoc 2018, was created starting from one of the Un1co One extension plans: hooked to a system of belts, the splicer and cutter were fixed on it by pins.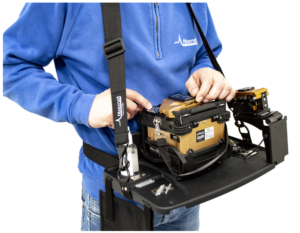 The next step was the design of a new shelf, made of sturdy ABS with a rough finish and dimensions 365 × 260 mm, designed to adapt it to the most common splicers on the market.
The splicer can be easily fixed with a screw to the work surface, in different positions, through the central slot.
It is also equipped with 4 magnets for positioning of various tools and / or accessories such as scissors or strippers, and prevent accidental falls.
In addition, there are n.2 rectangular trays designed to contain elements such as shrink-joint covers and n.2 circular trays for positioning cleaning fiber.
Un1co Mobile also provides a cleaver support, practical component designed to ensure the cutter during fiber cutting operations before joining. This component consists of two aluminum elements, one fixed and one rotating: the cutter is fixed with a screw to the rotating element (or with an extra resistant stretch) which, after practicing the fiber cutting, allows to free the space for the next joint.
Furthermore, in order to guarantee safety even for those cleavers that do not have a fixing hole or that you decide to not fix with double-sided stretch, Fibernet has developed a new support that can be fixed to the shelf magnets. Adaptable to different sizes cleavers, thanks to an adjustable pin, this solution allows you to safe and comfortably ensure all the tools.
As Un1co Mobile is extremely flexible in use, it can be used over the shoulder, once attached to its abdominal support which allows you to safely ensure the work surface to the operator's body; on a scale, thanks to the appropriate mounting bracket, or on tripods, becoming a real work table.
Kategoriat:
Fibernet
,
Kuiturakentaminen
,
Yleisvarusteet valokuituasennukseen