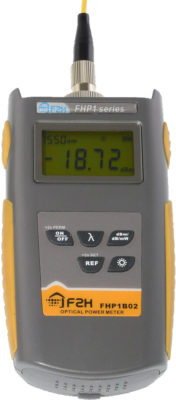 Optical Power Meter FHP1B02
Product ID: Y41010
Request a quote
Optical Power Meter FHP1B02
FHP1B02 is a cost-effective full-featured mini sized optical power meter designed to be used with an optical laser source to perform optical loss measurements or stand-alone tests on optical fiber cables at the infrared light range.
FHP1B02 supports seven wavelengths: 850nm, 1300nm, 1310nm, 1490nm, 1550nm, 1625nm and 1650nm. It indicates also the common 270Hz, 1kHz and 2kHz modulations used for fiber identification.
FHP1B02 measuring range is -40 … +23dBm (at 1550nm), so it is also suitable for cable-TV environment. Related product version FHP1A02 is similar equipment with -60 … +3dBm range. Connecting FHP1A02 with FHS1D series dual-wavelength laser source, FHP1A02 meter enables accurate measurement of fiber loss at a distance of up to 250 km (at 1550nm), depending on conditions.
FHP1B02 has a clear backlit LCD with linear and logarithmic optical power display. Device has low battery consumption and indicator for low battery. The 10-minute auto-shut-off feature can be by-passed manually.
FHP1B02 power meter
FC/PC and SC/PC connectors
4 pcs AAA size batteries
Carrying bag
User manual
Categories:
Grandway
,
Power Meters & Sources