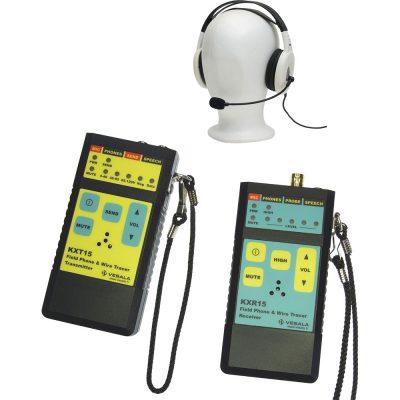 Field Phone and Wire Tracer KX15
Product ID: V00132
Request a quote
Field Phone and Wire Tracer KX15
KX15 is a complete wire tracing equipment with integrated speech communication. KX15 is designed especially for cable jointing work. Using KX15 technicians can quickly and easily find the right pairs before jointing, especially at fault situations and large cables.
KX15 consists of a transmitter KXT15 and receiver KXR15 and it combines all necessary functions for testing and identifying wire pairs in the field. Both devices have internal loudspeakers, so headsets are not necessary for mere tracing.
Tracing pairs with KX15
The below image shows the standard way of using KX15 for pair tracing: After speech communication has been established (A) and (B), (A) connects sending signal to the pair to be traced. (B) can now find the pair with the capacitive probe.
When (B) short-circuits the found pair, transmitter will indicate the shortcircuit with clear beep as verification. Both A and B hear the beep in their headsets and get confirmation that the correct pair has been found.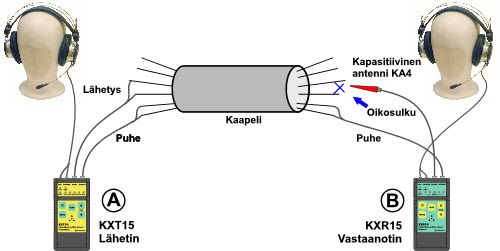 With un-used (cold) pairs a galvanic step-by-step procedure  to detect short-circuits, cut wires, cross connections and ground leaks can be used (see the brochure for more info).
KXT15 and KXR15 can maintain speech communication all the time during testing, using one free wire pair only. Both devices have volume adjustment for earphones and a microphone mute function.
Tracing cables, sewers and pipes
KX15 can be used also to trace and identify cross-connection pairs and terminal blocks like in the below image.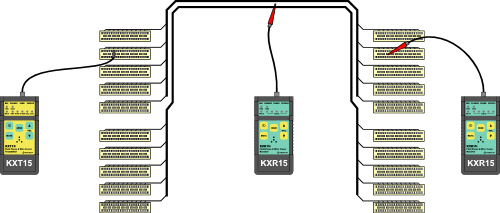 KX15 can be used to trace underground or on-shelve cables with the SA10 receiver probe. Sewers and empty pipes and their blockages can be found by inserting a duct sonde to the target object. For tracing electric wiring pipes inside houses, a pipe transmitter antenna is useful when used together with LA1 probe.
High impedance pair monitoring
The high impedance, interference-free listen mode of the transmitter KXT15 enables the user to monitor pair before actually sending any signal to it. It is important to use this feature first with pairs that are in use, as in send mode the transmission disturbs possible communication.
If there is DC-voltage on the pair, one of the external voltage LEDs will be lit together with polarity indication. Correspondingly, if there is data on the pair, a special data LED will be lit. Speech e.g. on telephone pairs can be heard through the loudspeaker or headset.
This Vesala product is made in Finland.
Transmitter KXT15
Feeder cord PJ15p, 1.5m, RCA/banana plugs & crocodile clips
Speech cord PJ15, 1.5m, RCA/banana plugs & crocodile clips
Headset HM12, 3.5mm plugs
Carrying bag KPP5, nylon, 240x180x130mm
User manual
Battery
Receiver KXR15
Speech cord PJ15, 1.5m, RCA/banana plugs & crocodile clips
Receiver probe cord AK1, 1.0m BNC male/BNC male
Capacitive probe KA6
Inductive close range probe LA5
Headset HM12, 3.5mm plugs
Carrying bag KPP5, nylon, 240x180x130mm
User manual
Battery
Categories:
Locators by Vesala
,
Telecom Testinstruments
,
Vesala