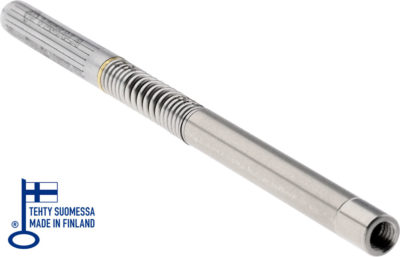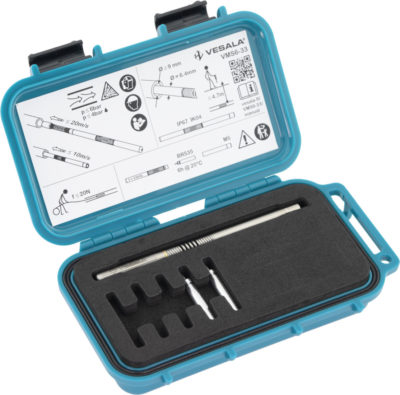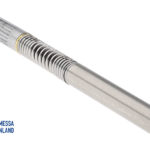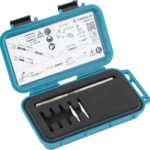 MicroSonde VMS6-33
Product ID: V19010
Request a quote
MicroSonde VMS6-33
MicroSonde VMS6-33 is flexible and only 6.4mm diameter transmitter sonde for tracing microduct and other tube blockages. VMS6-33 is intended to be used with the Vesala CL43 Compact Locator and other cable tracers and pipe locators using the 33kHz tracing frequency.
The VMS6-33 construction includes the transmitter unit and battery compartment, which are connected together. The semi-rigid construction helps the device pass duct curves, joints and obstacles easily. This way constructor can validate if ducts are usable for new cables or not. VMS6-33 is intended for ducts having inner diameter of 9 mm or more.
There is a blinking red light at the tip of the transmitter indicating transmitter operation. The disposable lithium battery unit gives energy for approx. 6 hours total usage.
MicroSonde VMS6-33 diameter is 6.4mm and length with mounted battery compartment 114mm.
Transmitter signal
32.768 kHz continuous sinusoidal signal.
This Vesala product is made in Finland.
VMS6-33 Transmitter sonde
Battery compartment with M5 female mounting thread
3.0V lithium battery BR535, 2 pcs
Plastic storage box SB9
Quick guide
Categories:
33 kHz Sondes
,
Vesala