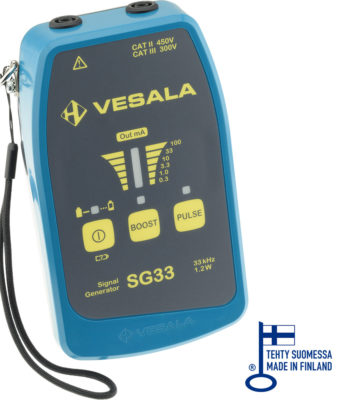 Signal Generator SG33
Product ID: V11357
Request a quote
Signal Generator SG33
SG33 Signal Generator
SG33 is Vesala's general purpose cable tracer transmitter. It is at its best when used with the Vesala CL43 compact locator but it can be used with other brand 33kHz locators as well. SG33 is small in size so it will fit in places where other bigger transmitters would be to too clumsy, such as small cabinets, and during indoor use. SG33 is powerful: In Boost mode its output power
corresponds to many big outdoor use focused transmitters.
SG33 can be connected to telecom cables and even directly to 450V live mains wires. With clamp-on transformer e.g. underground cables are equally reachable. Unlike most 33kHz transmitters, SG33's output signal can be switched to 4Hz or 8Hz pulsed mode. Pulsed signal is often easier to distinguish from noise. Furthermore pulsed modes enable using the two transmitter method to pinpoint wire cuts in cables.
SG33 can be used for example to:
Tracing mains cables and wires indoors and outdoors
Identifying circuit breakers and fuses in electrical cabinets
Tracing telecom cables and identifying wire pairs
Tracing floor heating cables
Tracing short circuit and open faults
There are several accessories available for SG33 and CL43 to make the setup a full featured cable tracing equipment: For SG33 there is a selection of feeding cords and clamp-on transformers and for CL43 several probes are available. As CL43 is compatible with all Vesala's duct sondes it is also an excellent starting point to duct tracing.
SG33 has been designed and manufactured in Finland.
Signal Generator SG33
Connecting cords TB10m and TB10p (safety bananas 1 m)
Adapters safety crocodile XKKm and XKKp (banana)
Soft bag KPP7
User manual
Batteries
Categories:
Electric Installation
,
Locators by Vesala
,
Vesala